Welcome to

Testimonials


Hi Rob.

Just wanted to let you know I really, really like that honey. It is everything I was hoping it would be. I also saw where you signed me up for your list … thank you.

Regards,
Mary W. Brownsburg IN
---
Hi Rob.

I talked with mom yesterday. She said you delivered some honey to her. She likes it just as much as I do. As I indicated when we first spoke, I have never liked honey. But after trying a sample of yours at National City, I was hooked. Thankfully, my husband thinks the store bought stuff is better, so I still have some that will last me through the end of November.

Before I run out, I will be in touch for some more. I realize that the raw honey will be gone soon, but the other will at least taste better than what you can buy in the store.

I will talk with you soon.
-Donna, Brownsburg IN
---
Hi Rob,

I loved [the hand cream], haven't had to use any more this summer though. This is absolute the best, and we've tried many different store bought ones.  Same thing is true on the honey also.  I like to add your honey to my morning hot chocolate when it's cold outside.  I still have 1 1/2 glass containers left.  Will be ordering more honey & hand cream later on this fall when things settle down around here.
-Tom
---
Hey, Rob.

Just wanted to let you know the honey arrived a week ago today, and it's very good.  I'm really pleased with the quality.  Wonderful flavor!
Thanks again. Sincerely,
Toni C, Arizona
---
We saw you at the Lebanon show last Sat.  Got some honey & lip balm -- really good,  So let me know what the charges would be for shipping.  As that will probably be the best for us.   Also been using the lip balm on a crack around my finger nail, it's healing up real fast, so that's why I'm ordering the hand cream
Tom M. Frankfort IN
---
Everything arrived in perfect shape.  The honey is delicious, as usual.  The candles, pristine.  I cannot answer personally for the lip balm, because they were immediately scarfed up by my daughters, a sufficient testimony to the quality of the product. Thanks again Rob.
Sincerely, Charlotte Lancaster Co, PA
---
I have been using your honey in my tea to help my allergies and it is helping! I also use it in a combination with raw garlic to help my cough as I have copd and most medications that cost more do less---I firmly believe in the power of natural healing and find honey and garlic help me stay out of the doctors office more than anything! Thank you for making local honey! I find it more than a sweet treat--it helps me stay healthy! Peace be with you
Gaytha A, Brownsburg IN
---
Tried it in my tea this morning. BEST HONEY I EVER TASTED!
Janet, Indianapolis IN
---
Our kids ask for The GOOD HONEY, the Bluffwood Creek honey
Phil & Charity, Brownsburg IN
---
Hey!! Got the honey today, thanks! It is absolutely wonderful!! Lightest honey I've ever tasted. I've placed a link on my webpage to your site!
Dawn, Scottsboro AL (our first mail order)
---
These are the recorded remarks from the judges at the Hendricks County Fair in July 2002, when the honey won two first place prizes: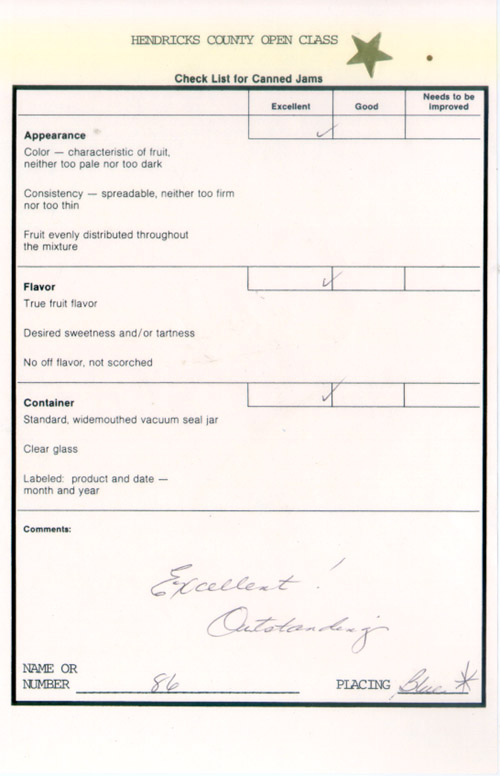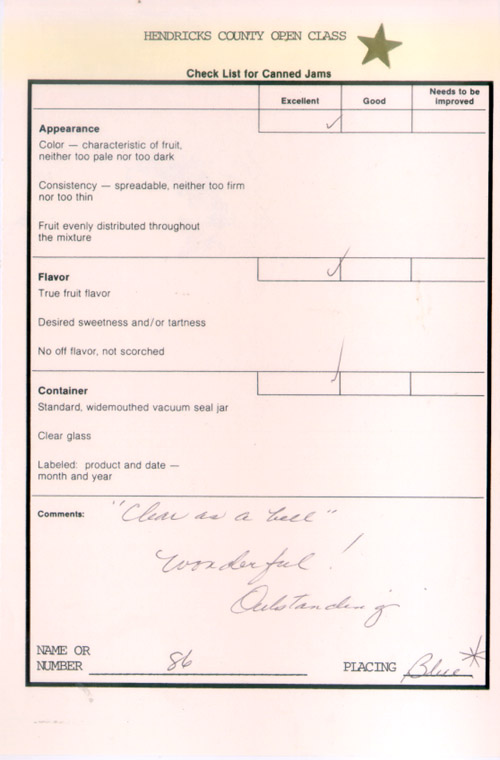 ---
I was telling [my husband] that your honey has a clarity of flavor that I never tasted before. It is really excellent. ...what I like best is that it is from your backyard... the health benefits of not buying it a store are so fabulous.
Cindy, Newark DE
---
I'm really glad to [try your honey] after all. I get to eat the product. I didn't know there was so much difference in commercial and natural honey. Your honey doesn't leave an unpleasant aftertaste. The only other honey I have used that was natural was wildflower. It was very strong amber stuff. [Bluffwood Creek honey is fruity]. This is not fair. I am sitting here [at work], thinking about the honey at home.. and drooling. VERY unattractive. I was FINE until you brought it up! LOL
Charlotte, Lancaster Co, PA
---
Hi...

Sorry it's taken me so long to let you know how pleased I am w/ your products! Great stuff! And thank you for the personalized delivery - I like being able to buy from local folks. I'll be ordering againg in the future & I'll try to recruit some other new customers for you, as well. Thank you again...
Kristin B, Clayton IN
---
Tim's (he's my co-worker) wife says that's the best honey she's ever tasted.
Catharine
---
Rob,

The honey is excellent. My father and I enjoyed it immensely. I appreciate all of the gyrations in getting it up here. Thanks again. (Note: this order was for honeycomb which is fragile, and we arranged delivery to a town half a state away).
Dave Z., Fort Wayne IN
---
DJ I like your stuff [honey] - too bad my father can't offer an opinion! It arrived [in the mail] fine!!! and it is good!!! I shared part of it at work for our holiday luncheon!
Debra B, West Des Moines IA
---
BACK